Soon after bringing
support for 8 more India languages
in voice search, Google has now updated its mobile search app. Alphabet Inc. owned Google announced that from now searching videos on Google will bring up a silent six-second clip, allowing you to decide if it's actually a video you want to see.
The same preview feature was rolled-out few weeks ago to YouTube for desktops.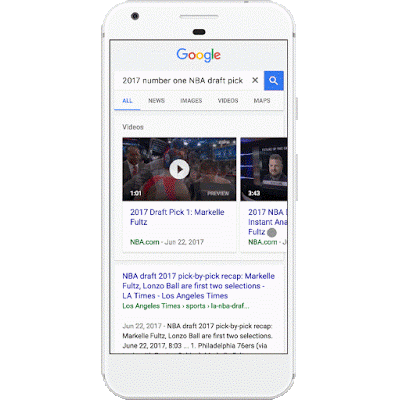 Prashant Baheti, the Product Manager at Google, said, "Starting today and rolling out more widely next week, on the Google app for Android and Chrome on Android, when video results show up in the video carousel, just like text snippets for text results, you'll see video previews."
The new preview feature will work on almost all videos available on the web, except for some of the newest videos because it takes the servers a bit of time to build the previews, Google said.
It happens a lot that we switch to wrong videos while searching because the thumbnail isn't going to give you enough information about what actual video is all about and if it's worth watching or not. It's easy to set up a good looking thumbnail to attract viewers no matter how the original video looks.
So the new preview feature is definitely going to save lots of time of users by removing at least some of this ambiguity.
By default, the preview feature is available on a wi-fi connection, and if you want to use this feature on mobile data then you can enable it by going to the settings menu within the Google app or settings for Android Chrome.
We've to wait and see if Google brings this feature to desktops.